Spring Detaling
Spring is here … and summer is just around the corner. To ensure that your vehicle is operating as it should, at Greenway Kia East, we are recommending that our customers schedule an appointment for spring tune-ups. We know that it may have been a while since you last took a road trip, and you need to make sure your car is ready to go. Regardless of whether you're driving the kids to school, running errands around town, or planning a spring break getaway, you need your vehicle to operate efficiently and reliably, and at Greenway Kia East we can make sure that your vehicle is ready to go whenever and wherever you are!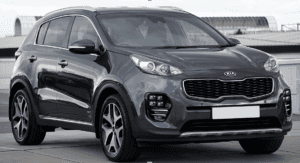 Why Schedule a Spring Service for Your Car?
The main reason to schedule a spring service appointment for your vehicle is that keeping to a regular maintenance schedule minimizes the changes of your car breaking down unexpectedly or requiring a serious repair.
When you bring your vehicle to us, we can potentially identify issues that might not yet be causing any problems but might become more serious, and costly, down the road.
Furthermore, a spring service might be able to help you save money at the gas pump. Keeping your engine operating at peak efficiency, can improve your gas mileage!
What Maintenance Tasks Do You Perform?
At Greenway Kia East we work on all makes and models, not just Kias. Every vehicle is different, and we always follow the recommendations from the manufacturer when it comes to the maintenance services we offer. Some of the services we may perform on your vehicle include:
• Air filter changes – this would include the engine air filter and cabin air filters.
• Fluid checks/top-offs – when you bring your vehicle in for service we will check and top off all fluids for no or minimal additional cost. This includes windshield wiper fluid, engine fluid, and brake fluid.
• Oil changes – the oil in your vehicle serves a whole host of critical engine functions, including lubricating moving parts, cooling the engine, reducing wear and tear, and helping to prevent engine corrosion. Depending upon your vehicle and what type of oil you're using, you'll need to have your oil changed every three months or 3,000 miles on average. We can let you know if your vehicle's oil needs to be changed.
If you have questions about the maintenance tasks required on your vehicle, speak to a member of our team. We will explain to you what the manufacturer recommends, making sure we follow all the best practices in our field.
The Benefits of Spring Detailing
Spring detailing should be a regular part of your vehicle maintenance plan. That said, the following are real benefits that you can gain from spring detailing.
• Address Seasonal Damage- Your car can sustain a significant amount of wear and tear over the course of a single year. It's hard to prevent that when your vehicle is constantly exposed to dirt and debris. Spring detailing can remove the minor scratches that have accumulated on your car. It also conditions the car for another year of service.
• Improve Longevity – Proper maintenance, including regular detailing, is necessary to keep your car looking and running its best.
• Maintain Value – Whether you own or are leasing your vehicle, keeping up with things like regular detailing will ensure that you receive top dollar for your vehicle when you sell it or trade it in, and that you don't pay costly penalties for excess wear and tear when you are turning in a leased vehicle.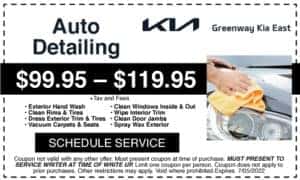 Why Trust Greenway Kia East?
At Greenway Kia East, we know that you want to make sure your vehicle is treated and cared for like the valuable asset that it is. Our mechanics are expertly trained, investing in continuing education that places them in the best position possible to take care of your vehicle. Furthermore, we always put the needs of our customers first. We understand that you are on a budget, and we will be open and honest about all maintenance tasks that we think your car requires. We will also answer any questions and concerns you might have. We want to make sure you have the information necessary to take care of your vehicle when you leave our dealership. Rely on our team to take care of you.
Count on the Greenway Kia East Team To Help You Take Care of Your Car
If you are looking to save time and money, then make sure you schedule a spring service for your car. At Greenway Kia East, we always stress the importance of routine maintenance because we want our drivers to get as many miles out of their cars as possible. Our team will keep you updated every step of the way, making sure you understand exactly what is happening with your vehicle. Then, we will let you know what we find, recommending services that have been customized to meet the needs of your car. Schedule your spring service with Greenway Kia East today, and make sure your vehicle is ready for the spring season!