Explore The All-New 2023 Kia Sportage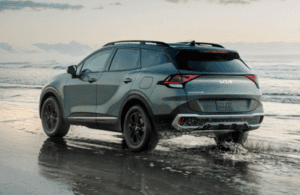 If you're looking for a crossover SUV with class, reliability, and plenty of cargo room for traveling, the 2023 Sportage is an excellent pick. With three models to choose from, including a plug-in hybrid, the 2023 Kia Sportage is one of the most future-forward SUVs on the market. To learn more and take one for a test drive, visit Greenway Kia East today.
Power and Possibilities
For those interested in a crossover SUV but unsure if a gas or a plug-in hybrid is the way to go, the 2023 Sportage offers plenty of options. The current engine options for the 2023 Sportage include:
Gas: 25-28 MPG (Combined), 8-Speed Automatic, 187 Horsepower
Hybrid: 38-43 MPG (Combined), 227 Horsepower, 258 lb.-ft. of torque (Combined)
Plug-in Hybrid: 84 MPGe (Combined), 261 Horsepower, 258 lb.-ft. of torque (Combined)
There are also 7 trims available for the 2023 Kia Sportage, including LX, EX, X-Line AWD, SX, SX Prestige, Sportage X-Pro, and Sportage X-Pro Prestige.
Comfortable Technology at Your Fingertips
When you invest in a new vehicle, it's important that you are comfortable while driving and accessing its features. The 2023 Kia Sportage includes the latest tech and integrates seamlessly into the built-in display available in all trims. Notable tech that provides a bit of luxury to the 2023 Kia Sportage includes: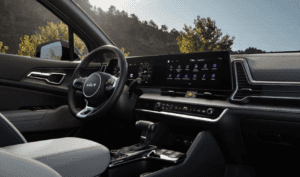 Dual Panoramic Displays: Enjoy 12.3″ dual panoramic displays for a total of 25″ of the high-resolution display. Inquire about vehicle information, diagnostic tools, mileage, and even GPS coordinates with just the press of a button.
Blind-Spot View Monitor: Keeping an eye on your blind spot is easier said than done, which is why a Blind Spot View Monitor is beneficial. Receive immediate alerts whenever a pedestrian, obstacle, or vehicle is detected in your blind spot. The standard Blind-Spot View Mirror included in the 2023 Sportage can also be paired with an optional Blind-Spot Collision-Avoidance Assist technology, which automatically redirects your vehicle into its appropriate lane when a potential collision is detected.
360-Degree Surround View Monitor: If you are concerned about watching your surroundings, you can do so easily with four exterior-mounted cameras on your 2023 Kia Sportage. With four exterior-mounted cameras, you will have a bird's eye view of your surroundings while driving, parking, backing up, and even exiting your vehicle.
Wireless Charging: Charging your Qi-compatible devices has never been easier with wireless charging capabilities built into the 2023 Kia Sportage. Along with wireless charging capabilities, the Sportage also includes two USB-C charging ports that are available on the back of the driver and passenger seats.
Kia Drive Wise Safety Features
With Kia Drive Wise©, drivers of the 2023 Kia Sportage can take advantage of numerous safety features and intelligent AI to remain safe and protected behind the wheel. A few of the Kia Drive Wise© safety technologies that come standard with the Kia Sportage include:
Forward Collision-Avoidance Assist-Pedestrian and Cyclist Technology: The Sportage detects a potential collision ahead and can also automatically engage the brakes as necessary to prevent potential accidents.
Blind-Spot Collision-Avoidance Assist: Blind-Spot Collision-Avoidance Assist technology provides automated alerts whenever a vehicle, pedestrian, or obstacle is detected in a blind spot that is not currently visible. While this is useful during rush hour and on busy roads, it is also extremely helpful when attempting to parallel park or exit your vehicle safely.
Rear Cross-Traffic Collision-Avoidance Assist: The 2023 Sportage has built-in radar sensors beneath both the rear bumper corners, providing alerts whenever vehicles, pedestrians, or objects are behind you. This is beneficial while backing up out of a parking spot or even attempting to back into your driveway. Brakes can automatically be applied in certain situations, when necessary.
Lane Following Assist: Monitor lane markers and ensure you remain in your lane safely at all times.
Safe Exit Warning: Receive an alert if there is a potential hazard, vehicle, or obstacle next to your vehicle prior to exiting.
Whether you're in the market for a crossover SUV that offers luxury and convenience or if you are interested in fuel and energy efficiency, the 2023 Kia Sportage has it all. To check out the latest 2023 Kia Sportage crossovers, visit Greenway Kia East.