Look No Further Then The 2023 Kia Sportage
The new Kia Sportage's 2.5-liter 4-cylinder engine offers up to 187 horsepower and 178 lb-ft of torque. Unlocking even more of the Kia Sportage's power is possible if you opt to get the hybrid variant of this compact crossover. The automatic 8-speed transmission allows you to seamlessly adjust your pace depending on the current road conditions. Different drive modes will also allow you to adapt to your surroundings better. With all-wheel drive available, you don't have to worry too much about losing control of your vehicle. Several assist and alert features are also included in the newest version of the Kia Sportage.
Plenty of Room to Spare 
You can expect to get plenty of cargo space if you opt to purchase this crossover. This new Kia offering provides 39.6 cubic feet of space. If you still find that lacking, you can fold the rear seats and open up more cargo room. After doing so, you will gain access to 74.1 cubic feet of space. With that amount of space available, you should have no trouble fitting your luggage or camping gear inside the vehicle. Loading up the Kia Sportage is also an easy task thanks to the Smart Power Tailgate. The Smart Power Tailgate can open automatically if it senses your key. From there, you can simply load your belongings into the rear of the vehicle. There will be no need for you to fumble around with the keys any longer. The 2023 Kia Sportage is capable of comfortably accommodating both you and your cargo. Your passengers have 41.3 inches of legroom to work with.
Advanced Features Available at Your Fingertips.
We've already touched on some of the impressive technological features found inside the 2023 Kia Sportage, but there are still some more things worth discussing. The people over at Kia went all out when they put the new Sportage together and you can see that in its set of technological features. Learn more about those impressive technological features by reading the bullet points below.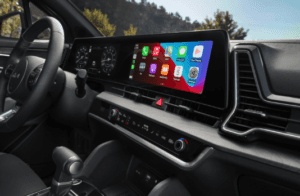 Surround View Monitor – Drivers always need to be aware of their surroundings and the 2023 Kia Sportage can be helpful in that regard. This compact crossover features mounted cameras that give you a 360-degree view of your immediate surroundings. You won't miss anything nearby thanks to those cameras.
Blind Spot View Monitor – Even with the Surround View Monitor disengaged, you can still use the Blind Spot View Monitor to stay safe on the road. The Blind Spot View Monitor kicks in whenever you use your turn signal. If there is a vehicle nearby that you are in danger of clipping, the Blind Spot View Monitor will find it.
3-Inch Dual Monitors – The 2023 Kia Sportage also features two 12.3-inch monitors. You can use one of those monitors for navigation while the other can provide entertainment for your passengers. You can also use the monitors to learn more about the current condition of your vehicle.
To learn more about the 2023 Kia Sportage and to inquire about our available inventory, contact Greenway Kia East today. At Greenway Kia East, we will work with to find and maintain the perfect 2023 Kia Sportage for all of your driving and exploration needs.