Explore The All New 2023 K5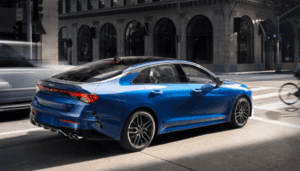 Driving fast and getting where you need to go in style is not always an easy feat, especially when you are in the market for a new vehicle. With the 2023 Kia K5, arriving on time and in a vehicle with a stunning design is easier than ever. At Greenway Kia East we can help you to find a 2023 Kia K5 model that is just right for you and your driving needs.
Performance and Power
The 2023 Kia K5 is far from standard. In fact, the GT model of the 2023 Kia K5 outperforms the BMW 330i Sedan (in both handling and acceleration). If you are looking for a vehicle that not only delivers in power but also in class, look no further than the 2023 Kia K5.
The Kia K5 includes a 2.5L 4-cylinder turbocharged engine with up to 290 HP and 311 lb.-ft. of torque, giving you the power and performance you need whenever you are on the go. Included with the 2023 Kia K5 is also an 8-speed dual-clutch auto transmission as well as a Quad-Tip Dual Exhaust and sport-tuned suspension for fast acceleration when you need it most.
Travel in Style and Comfort
Not only is it possible to travel in your 2023 Kia K5 with plenty of power and leading technologies, but you can also do so in style and comfort with the following features: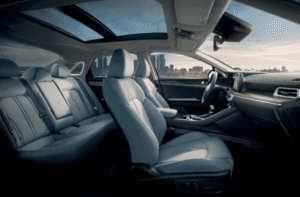 Integrated displays: Enjoy 10.25-inch touchscreen displays that are built-in for entertainment, media, radio, streaming, and navigational purposes.
Panoramic sunroof: Take in the beautiful sights around you with an included panoramic sunroof.
19-inch alloy wheels: Each of the 2023 Kia K5s includes 19-inch alloy wheels with a special gloss black finish.
Heated seats: For those who love luxury vehicles, the 2023 Kia K5 also includes heated GT Sport Bolster front seats.
Safety Features
Before getting behind the wheel of any vehicle, it is important to familiarize yourself with the safety features it has to offer. When it comes to the 2023 Kia K5, take advantage of the following safety features that are included with all standard models:
Safe Exist Assist (SEA): can help to detect potential oncoming vehicles, obstacles, or hazards in the road to provide an alert or warning to drivers and passengers before exiting the vehicle.
Surround View Monitor: With a built-in surround view monitor using a four-camera setup, keep an eye on all areas in front and behind your Kia K5, whether you are driving or in a parked position.
Forward Collision-Avoidance (FCA)- FCA Assist Technology is included standard in all 2023 Kia K5 models. With FCA, maintain peace of mind as vehicles, hazards, and obstacles are automatically detected in front of your vehicle while actively driving. Brakes can be applied automatically in an attempt to help prevent or avoid a collision.
Smart Cruise Control: With Smart Cruise Control, ensure that you are always maintaining a safe distance while traveling behind others with your Cruise Control technology enabled. Stop & Go and Highway Driving Assist technologies are also available with each 2023 Kia K5, helping to automatically adjust your set driving speed to match any posted speed limit that is detected while you are driving.
Rear Cross-Traffic Collision-Avoidance Assist (RCA): RCA Assist technology is used to detect potential vehicles, hazards, or obstacles in the way of your vehicle while you are in the process of backing up. RCA technology uses the rear-mounted cameras that are included with the 2023 Kia K5 to detect potential hazards, providing both visual and auditory warnings to alert drivers as necessary.
Blind-Spot Collision-Avoidance Assist-Rear: In addition to the RCA technology included with the 2023 Kia K5, Blind-Spot Collision-Avoidance Assist-Rear(BCA), is also included to assist with detecting vehicles, objects, and hazards in your vehicle's blind spots while actively driving.
The Kia K5 is one of the classiest modern sedans on the road yet. With its powerful engine, technologies, and safety features, it is no wonder that the 2023 Kia K5 is already one of the most popular vehicles of 2023. For those who are searching for a safe, powerful, and stylish vehicle, visit Greenway Kia East to discover what Kia K5s we have in stock today.